Details
The Garmin Alpha 100 is capable of tracking the new Garmin TT15 and T5 GPS collars.
SHIPPING NOW!
The Garmin Alpha 100 handheld features a bright touchscreen display that is configurable to your dog training needs. Customize the training collar to your specific training requirements with momentary, continuous or tone stimulation.
The Alpha 100 handheld also has built-in 100k Topographical features that allow you to view a track log of where you and your dog have been.
What's in the Box:
You can purchase the Alpha 100 in a bundle or as a stand alone receiver.
Alpha Bundle - GPS Track and Train System
- Alpha 100 handheld
- Rechargeable user-replaceable Li-ion pack
- Belt clip
- Extended range antenna
- Charge clip
- AC adapter
- Vehicle power cable
- Split adapter cable
- USB cable
- Durable field bag
- Manuals
Alpha 100 - GPS Track and Train Handheld
- Alpha 100 handheld
- Rechargeable user-replaceable Li-ion pack
- Belt clip
- Extended range antenna
- AC adapter
- Vehicle power cable
- USB cable
- Split adapter cable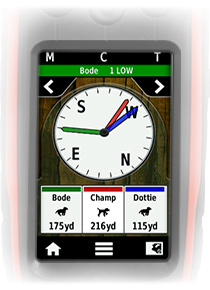 Track and Train 20 Dogs. From the compass screen, get in-depth speed, direction traveling and distance away information for any dogs you've selected. And correct any dog on this screen without falsely correcting the others.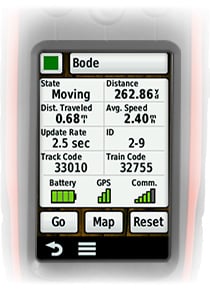 At-A-Glance Dog Stats. Get the information you always need, like your dog's state (moving or on-point/treed), distance from the Alpha device, total distance traveled, speed and update rate, all on 1 screen.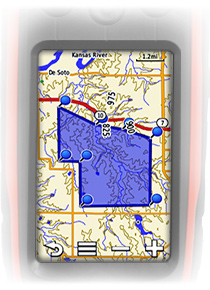 Keep 'em Away From Hazard. Don't wait till your dog is lost or in danger to get him back. Setup virtual boundaries on your map and receive an alert if he strays out of your geofence so you can recall him right away.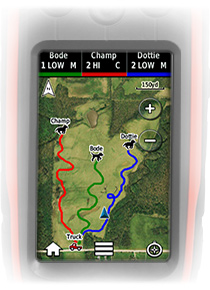 Your Own Birds Eye View. Track and train up to 3 dogs based on where they are with BirdsEye Satellite Imagery. These highly-detailed raster maps provide a realistic bird's eye view of roads, parking areas, buildings, and terrain, including tree lines, lakes, rivers and streams. They are a great way to supplement the comprehensive topographic maps on your Alpha.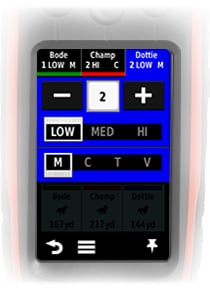 Keep Your Dogs On Track. From the training screen, correct and recall multiple dogs (with extra TT 10 devices) with the help of Tri-Tronics electronic training. Select traditional or linear progression plus tone or stimulation types.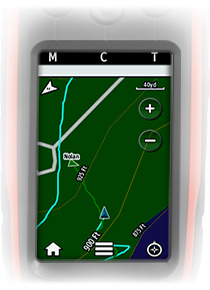 Keep Up With Your Buddies. Know where other hunters in your group are. Set your Alpha to show not only the dogs in your group, but also the other Alpha handhelds too (Up to 20 TT 10 or Alpha units. Not compatible with Astro).
Professional Tracker. Professional Trainer.
- Glove-friendly 3" color touchscreen
- Preloaded 100K U.S. TOPO maps
- Electronic compass
- Barometric altimeter
- Hunter-to-hunter position reporting with preset messaging capability
- Waterproof (IPX7) design
- Rechargeable, user-replaceable Li-ion battery pack
- PO maps - you'll always know your surroundings.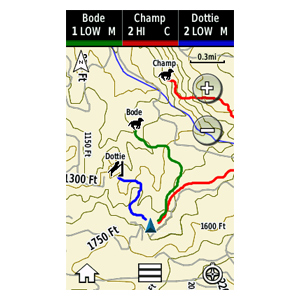 Track Your Dogs
Using the Alpha 100, you can measure each dog's speed, distance and the direction being traveled. Plus, you can receive notifications when a dog is "Treed" or "On Point." A single Alpha 100 can track up to 20 dogs or fellow hunters when using either additional Alpha 100 handhelds or TT 10 devices (each sold separately, not compatible with Astro®).
Train and Control Your Dogs
Alpha 100 helps you train and control them to stop chasing unwanted game or "recall" to your position. Easy to access training buttons allow you to communicate separately to each dog through safe and effective features, including 18 levels of momentary and 18 levels of continuous stimulation or an audible tone command. Plus, a lockout setting is available to avoid accidental stimulation or tone.
Two modes of level progression let you customize your training even further. Traditional stimulation allows you to make quick changes within a predetermined stimulation level (low, medium or high). Whereas linear stimulation allows progressively more stimulation through all 18 levels available.
Extend Your Battery
When using the TT 10, hunters can switch to Rescue Mode to prolong the battery life. When the TT 10 reaches a certain battery level, it will slow down the update rate at which it pings the Alpha 100 from every 2.5 seconds to every 2 minutes. This mode should provide additional battery life to the TT 10, giving you more time to search for and locate your dog.
Physical & Performance:

Unit dimensions, WxHxD:
2.5" x 6.5" x1.5" (6.4 x 16.5 x 3.8 cm)
Display size, WxH:
1.5" x 2.6" (3.8 x 6.3 cm); 3" diag (7.6 cm)
Display resolution, WxH:
200 x 400 pixels
Display type:
transflective, 65-K color TFT touchscreen
Weight:
8.8 oz (250 g) with standard antenna and battery
Battery:
rechargeable lithium-ion (included)
Battery life:
up to 20 hours (Alpha 100)
Waterproof:
yes (IPX7)
Floats:
no
High-sensitivity receiver:
yes
Interface:
USB
Maps & Memory:

Basemap:
yes
Preloaded maps:
yes (topographic)
Ability to add maps:
yes
Built-in memory:
4.0 GB, 500 MB available for user storage (with topo maps loaded)
Accepts data cards:
microSD™ card (not included)
Waypoints/favorites/locations:
4000
Routes:
200
Track log:
10,000 points, 200 saved tracks
Features & Benefits:

Automatic routing (turn by turn routing on roads):
yes (with optional mapping for detailed roads)
Electronic compass:
yes (tilt-compensated, 3-axis)
Touchscreen:
yes
Barometric altimeter:
yes
Camera:
no
Geocaching-friendly:
yes (paperless)
Custom maps compatible:
yes
Photo navigation (navigate to geotagged photos):
yes
Outdoor GPS games:
no
Hunt/fish calendar:
yes
Sun and moon information:
yes
Tide tables:
yes
Area calculation:
yes
Custom POIs (ability to add additional points of interest):
yes
Unit-to-unit transfer (shares data wirelessly with similar units):
yes
Picture viewer:
no
Garmin Connect™ compatible (online community where you analyze, categorize and share data):
yes
Additional:

Range: up to 9 miles line of sight

Frequency band: MURS (not compatible with Astro)

Tracks up to 20 dogs (TT10) and buddies (Alpha 100) simultaneously
Gallery View
You may also be interested in the following product(s)