Details
Product Description: Garmin Astro 320 with DC50 collar
Overview: Garmin Astro 320 handheld and DC50 tracking collar.
NOTE: The Garmin DC50 will only track with a Astro 320 handheld. If you have a 320, You will need to update your software on your 320.
Click Here Watch our Video showing you how to update your Garmin Astro 320 Software
Garmin Introduces the newest in dog tracking technology, the Garmin Astro 320 with DC50 Tracking Collar. This system is specifically designed with the serious hunter in mind with a number of advancements over previous designs.
You will now be able to track your dogs more accurately and more constantly than you have ever before
What's new with the Astro 320/DC50 combo?
Astro 320 handheld:
Updated software to track DC50 collars.
Users can update the software on older Astro 320 handhelds to track the DC50.

For instructions on how to update your Astro, visit our How-to Section "link" (needs link)
Software update includes Bark Detection feature.
Software to control the Rescue Mode battery-saving feature on your DC50.
DC50 collar:
Integral Rescue Mode automatically conserves batteries after they reach 25% charge.
Better GPS signal on the DC50 because

GPS receiver mounted to top of collar like previous DC30 collar
GLONASS enabled GPS allows collar to track more satellites
Longer, more durable VHF antenna with braided steel core provides better communication.
Bark Detection gives you real-time info on how much your dogs are barking in the field.
Tool-less design makes for fast, easy changes of collar straps without the need for tools
Waterproof up to 10 meters
Key features of the Garmin Astro 320/DC50 Tracking & Training Combo
Better Tracking:

High-sensitivity, top-mounted GPS receiver is now enabled to receive signals from GLONASS (Global Navigation Satellite System) satellites for the DC50 Collar. This adds 21 more satellites your collar can connect with (in addition to the 28 satellites currently in the GPS system), helping eliminate dropped satellite connections in rough country and deep cover.

Bark Detection:

The DC50's new Bark Detection feature is a first in the dog tracking industry. When enabled, users can see the rate-per-minute at which each of their dogs is barking, even when out of audible range. Each dog's bark status is displayed on both the map screen and the individual dog screen and compass screen. Since some users may not want to have bark rates displayed on the map screen, there is an option to turn it off on the map screen while keeping it active on the other screens. Another option with Bark Detection is the ability to set a "minimum bark-rate threshold;" this allows users to establish a minimum rate of barks per minute—either 20, 40, 60, or 80 bpm—before they are alerted by their Astro 320. In short, Bark Detection will be especially beneficial when your hounds are out of hearing range and you're trying to decipher if they're just trailing, or have already jumped or treed your quarry.

Rescue Mode:

Rescue Mode is another feature that's new to the Astro line of tracking collars. It's a battery saving function that, when activated, automatically switches your collar update rate to once every 2 minutes (120 seconds) when the battery has declined to 25% of a full charge. This is designed to give users many additional hours to retrieve a dog before the collar battery dies—however, note that Rescue Mode can be shut off if a user doesn't wish to have their update rate changed.

Better VHF Antenna:

The DC50 sports a longer, more flexible VHF antenna made of aircraft-grade braided

steel, which greatly improves both range and durability over previous DC collar antennas. DC50 antennas are available in both 18.5" and 22.5", with the 22.5" coming stock on the DC50 from the Garmin factory.
Fast Collar-strap Changes:

Modeled after the Garmin Alpha TT10, collar straps on the DC50 easily slide through integral channels on the collar box, eliminating the need for tools when you want to quickly change collar straps. Any universal D-ring collar strap (or TriTronics EXP strap) will slide right onto your tracking unit in seconds. A huge plus with this setup is that you can first slide on an EXP or any other shock collar with a 1" strap, and then slide on your DC50, allowing for fewer collars on your dog.

Improved Charging Port:

The charging port on the DC50 is a vast improvement over the hookup on the widely popular DC30. It comes standard with a USB interface, which gives you 3 connection options when you need to charge: you can plug into an AC outlet, a vehicle charge port, or the USB port on a computer. This is especially handy when it's time to run a software update on your collar; all you have to do is attach the charging clip, plug your DC50 into your computer, and run Garmin Web Updater.

Helpful Tone Indicator:

Another welcome difference between the DC30/DC40 collars and the new DC50 is the audible tone it provides when you successfully add a collar to your Astro 320 handheld; this confirms that you've added the correct collar when there are other collars in the immediate vicinity. A tone will also sound when you successfully change most settings on your Astro 320/DC50 combo. For example: when you change dog type to "treeing dog," your DC50 will beep to let you know you did it right.
Exclusive PIN Lock:

The PIN Lock function allows users to select and store a 4-digit code for each of their collars so no one else can track their dogs without inputting the code. Although this is not a must-have feature in most hunting situations, it could be very useful in competitions, or when you're out with a large group of fellow hunters and their hounds equipped with Astros and DC collars.

Adjustable Dog Type:

Using the updated Astro 320, you can change the type for each of your dogs wearing a DC50 to reflect what they're doing. Your options are 1) Pointing, 2) Treeing, 3) Auto, and 4) None. This lets your Astro know that when your dog is sittingstill, he or she could still be on point or have game treed.

Better Power Button Placement:

The power button on the DC50 has been relocated to the bottom of the collar box, which protects it from being accidentally switched off by other collars on your dog, or by "unpredictables" like sharp rocks, fallen branches or the occasional ingenious coon. The improved placement will also provide more protection from everyday wear and tear, which you'll appreciate since we see a lot of DC30s and DC40s come in with cracks or holes in the rubber cover that seals the power button; this allows moister to get in and cause corrosion, which ultimately kills the collar.
Antenna Protection Sleev

e:

With the DC50, you'll no longer have to rig up protective nylon sleeves that stink and deteriorate over time, or use zip ties and electrical tape to secure your loose antennas. The new DC50 comes with a thick, durable rubber cover that not only protects the antenna core, but also keeps your antenna erect and receiving satellite signals. The cover is very durable and can be scrubbed clean easily if your hound has traipsed through the mud to chase down game.

Track Up To 10 Dogs:

The Astro 320 can track up to 10 different collars simultaneously.
Wireless Collar Updates

: With the Astro 320 you can update collar software on the fly! This will allows you to perform some trouble shooting as well even if your in the cab of your truck in the middle of the woods.
Product Review Summary: Astro 320 with DC50 Combo
Garmin has just released the DC50 tracking and training collar, the latest in its line of DC collars, and my field tests show that it offers several impressive advantages over its predecessors, the DC30 and DC40 collars. Combined with the Astro 320 handheld, your DC50 will provide vastly enhanced satellite coverage, much better handheld-to-collar reception because of its improved antenna, a Rescue Mode to automatically preserve battery power when you're running low, and Bark Detection to keep you aware of your hounds' behavior even when they're far out in the field. These are the four most notable advances, but the DC50 comes with many more features you'll appreciate as well. roll directly to that topic
DC50 vs. DC40—Why Upgrade?
There are a couple major reasons why you would want to upgrade to the Garmin DC50. First is the greatly improved satellite reception you'll enjoy: one of the most significant improvements in the DC50 is its top-mounted GPS receiver and antenna, which assure quicker satellite acquisition and more consistent satellite connections when your dogs are in heavy cover out in the field. On top of that, Garmin has enabled the GLONASS system of satellites for your DC50 ( Note: The 320 is the same and does not support GLONASS Satelites), so you'll have 21 more satellites available to you to help pinpoint your dog's location.
Thanks to Rescue Mode, a great new feature with the DC50, you'll also enjoy the possibility of much longer battery life than you get with the DC30 or DC40 collars. Rescue Mode was first introduced in 2012 on Garmin's top-line Alpha TT10 collars. Basically, it slows the collar update rate from once every 5, 10, or 30 seconds to once every 2 minutes to conserve power after your DC50 battery has drained to 25% of a full charge. This will give you many more hours of working time, allowing you to keep tracking a hound that has gone way off trail or gotten lost.
Another critical improvement in the DC50 over the DC40 is the longer braided-steel antenna. The design and construction of this VHF long-range antenna provides up to 30% more tracking range than you get with the DC40. The DC50 antenna is also much more durable and less prone to damage than the copper-wound stubby antennas on the DC40 and DC30 collars.
Bark Detection is yet another feature in the DC50 that's not available on any other tracking collar. With Bark Detection turned on, your DC50 will detect, average and report each of your dogs' rates of barks per minute (BPM) on your Astro 320 handheld. You'll be able to see in real time how much your dog is barking, or if they're working silently, which in turn will allow you to determine if they're ready to start a trail, or already barking on trail, or already guarding a site with treed game. You can also instruct your Astro 320 to alert you only when your dog barks more than a selectable minimum amount per minute. And if you prefer not to receive the alert, simply turn off Barking Alerts; you'll still be able to see BPM for each of your dogs in the dog list.
Lastly, some of the finer performance details that separate the DC50 from its predecessors include its versatile, user-friendly charging system, and beep-tones that confirm when you add collars or change settings on the DC50.
Garmin Astro 320 Features and Details
Features:
Side power button location
1.7 GB of internal memory
Tracks up to 10 dogs simultaneously
Up to 9 miles of handheld-to-collar reception (line of sight)
MURS frequency band
Compatible with Garmin's Birdseye Satellite Imagery, high-resolution TOPO maps, and more
Wireless field software updating
Specs:
Screen size: 1.43" x 2.15"
160 x 240 pixel, transflective 65-K color touch-screen display
Weight: 9.2 oz with 2 AA batteries
Battery life: up to 20 hrs with AA batteries (not included)
IPX7 waterproofing (withstands immersion in 1 meter of water for up to 30 minutes)
Tilt-compensated 3-axis electronic compass and barometric altimeter
Data-card compatibility: accepts MicroSD card (not included)
USB interface
Stores 2000 waypoints or locations, and 200 routes
Track log: records 10,000 points and 200 saved tracks
Area calculation capable
DC50 Tracking Collar Features:
Top-mounted, high sensitivity, GLONASS-enabled satellite receiver
22.5" braided-steel antenna, with 18.5" antenna available as an option
User-configurable Bark Detection
User-configurable Rescue Mode to extend battery life
Updates dog positions every 5, 10, 30, or 120 seconds
Easy-to-replace 27"x1" collar strap (no tools needed)
Extreme waterproofing (up to 10 meters, or ~33 feet)
Rechargeable, replaceable Lithium Ion Battery
Batteries and Battery Life
Astro 320:
The Astro 320 yields up to 20 hours of battery life using 2 AA batteries (not included). This can be prolonged by plugging your handheld into a vehicle charging port so it can run off of your vehicle's battery. Regardless, we recommend getting some good rechargeable AA batteries to use with your 320.
DC50:
The DC50 set to 5 sec. updates and with Rescue Mode enabled gets about 30 hours of battery life. Break Down: 5 sec. update rate =13 hours at 25% of battery remaining, Rescue Mode takes over = 2 min updates for an additional ~16 hours for a total time of ~30 hours. (additional real life battery information will be updated as we thoroughly test these collars)
Update Rates/PIN Lock
With the Astro 320/DC50 combo, you'll be able to verify your dogs' position in real time, updated every 5, 10, 30, or 120 seconds. The user-selectable update rates let you customize system notifications to your personal hunting style, and Rescue Mode will help you conserve battery life in your collar and handheld if you choose to turn it on. Rescue Mode is an especially valuable tool when you're trying to recover a lost dog after many hours in the field, with potentially many more hours of searching.
PIN Lock can prevent access to your collars if you want to keep other people in the field from tracking your dog. To use it, simply assign a 4-digit code to each of your collars; this will prevent your collars from showing on any other Astro 320. However, if you want a partner to be able to track your dogs, you can simply give them your 4-digit codes to input on their Astro. This feature is not a requirement when using your Astro 320 and DC50, just an option; it's easy to turn off if you decide it's not necessary.
Use Your Versatile Astro 320 for Other Types of Hunting and Recreation!
Not only is the Astro 320 adept at tracking and managing hunting dogs, it's also a great tool when engaging in other outdoor activities. As a standalone GPS, the Astro can perform the same functions as any other Gamin GPS unit. By taking off the VHF antenna and capping the SMA connector, you have a compact and fully functional GPS for deer and elk hunting, hiking, camping, and even geocaching!
What's in the Box for the Astro 320/DC50 Bundle?
Astro 320 handheld
DC 50 wireless transmitter collar
5.0" standard antenna for the Astro
13.0" long range antenna for the Astro
18.5" standard antenna for the DC 50
22.5" long range antenna for the DC 50
Belt clip
USB cable
AC adapter
Manuals
Information below recieved from Garmin's Website:
The unique Astro 320 dog tracking system pinpoints your dog's position and shows you exactly where he is on a vivid color screen, even when you can't see or hear him. The Astro system has features that hunters have been asking for – like increased range and battery life, more durable antenna, a simplified user interface and must-have mapping capability.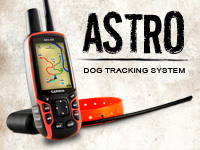 See Your Dogs' Every Move
The Astro system includes the Astro 320 handheld and the rugged DC™ 50 transmitter collar¹ with an orange polyurethane strap (accessory color straps sold separately). DC 50 features top mounted GPS and GLONASS receivers and a newly-redesigned steel VHF antenna. Switching to rescue mode reduces the refresh rate in order to preserve battery life, giving you more time to look for a lost dog. Plus, Collar Lock creates a 4-digit PIN number that helps prevent others from seeing your dog's whereabouts — a useful feature in field trials to ensure that an Astro is used only as a recovery tool when a dog in competition becomes lost.
Bark Detection lets you know your dog is barking even if it's out of audible range, a crucial feature for treeing hounds or running hounds that cover a lot of ground, even in heavy cover.
Experience Improvements to the Astro
The intuitive and easy-to-use Astro system takes dog tracking to an entirely new level with new software for the 320 which supports the DC 50 dog device and adds new features such as bark detection. The interface streamlines what is displayed by allowing dogs that are outside the current zoom level to have their location notated in the display's margin. The user also can choose the amount of each dog's tracklog displayed, or toggle it off completely, to avoid cluttering the map.
The Astro 320, compatible with any Garmin DC series transmitter, also debuts innovative features like enhanced map drawing capabilities, BirdsEye Satellite Imagery compatibility (subscription required), vibration-based alerts and a 3-axis electronic compass.
Both durable and waterproof, the Astro 320 system features the legendary toughness that's built to withstand the elements – whether it's dust, dirt, humidity or water, nothing is a match for this essential hunting companion.
Upgrade with Ease
Getting what you need for the hunt is now a little easier. Hunters have the option of purchasing the entire Astro bundle or as many DC 50 collars as necessary. And your 320 is compatible with every DC series dog collar. However, the DC 50 is our only dog device with features, such as remote bark detection and improved battery life including battery preserving rescue mode. The improved battery life means when you set your update rate to every 5-seconds the battery lasts 26 hours. In rescue mode, 2 minute update rate, the battery lasts 54 hours, giving you more time to find your lost dog
Get Additional Mapping
With its microSD™ card slot, Astro 320 lets you purchase and load TOPO U.S. 24K maps for land elevation contours or City Navigator NT® map data for turn-by-turn routing on roads. Astro 320 also supports BirdsEye Satellite Imagery (subscription required), that lets you download satellite images to your device and integrate them with your maps. Mapping depicts important nearby geographical features – and lets hunters know, for example, if their dog has crossed a creek or is nearing a dangerous road.
In addition, Astro 320 is compatible with Garmin Custom Maps, free software that transforms paper and electronic maps into downloadable maps for your device.
Track Dogs in Dense Cover
As often as every 5 seconds, your dog's DC 50 transmits his position to your handheld, and you can see his current location and a trail of where he's been on the map page of your handheld. Switch over to the Dog Tracker page to view a compass pointing to your dog's location as well as his current status: whether he's running, sitting, on point or treeing quarry. Astro also can let you know when your dog is barking, even if he's out of audible range..
Each dog's precise distance also can be presented on the map page, and users can choose an option that auto zooms the map so all dogs can be seen on the display at any time. Alternately, dogs that are too far away to fit on the map's current zoom scale can be notated on the display's margin in the direction of the dog's location. The user also can choose the duration that each dog's tracklog is viewed on the display – or toggle it off completely for a cleaner display.
Astro boasts a high-sensitivity GPS and GLONASS receiver which is mounted to the top of the collar so that can track your dog's position even in heavy tree cover or deep canyons. You can track up to 10 dogs at one time with Astro, from up to 9 mi away (depending on terrain). The system transmits information by line-of-sight, so it reaches farthest in flat, open territory.
Count Your Coveys
After you've captured your quarry, mark the exact spot with Astro's Covey Counter™, a special waypoint that tells you the exact location, time of day and elevation where you found your prey, as well as the number of birds you flushed and took from that location. Astro lets you save other special waypoints, such as "Truck" and "Lodge," so you can save the location of these places quickly and easily for each hunt. Astro also offers special waypoint icons to represent food plots, tree stands and other hunting-related points.
Plan Your Next Trip
Take charge of your next adventure with BaseCamp™, software that lets you view and organize maps, waypoints, routes, and tracks. This free trip-planning software even allows you to create Garmin Adventures that you can share with friends, family or fellow explorers. BaseCamp displays topographic map data in 2-D or 3-D on your computer screen, including contour lines and elevation profiles. It also can transfer an unlimited amount of satellite images to your device when paired with a BirdsEye Satellite Imagery subscription.
Turn Your Computer Into a Base Station for Tracking Dogs
The all-new BaseStation lets you turn your laptop (loaded with BaseCamp) into a field control center for tracking multiple dogs (additional DC 50 collar units required). View real-time GPS/GLONASS information on the larger display of your computer, making it ideal for canine search and rescue teams. And because it's Garmin GPS-based, safer, more effective tracking is possible, even where Internet and cell phone service isn't.
¹The DC 50 is compatible with the Astro 320 handheld only (software upgrade required). It does not work with Astro 220 or Alpha™ handhelds.
Gallery View